Elle Cooper
Position title: Student Exhibits Chair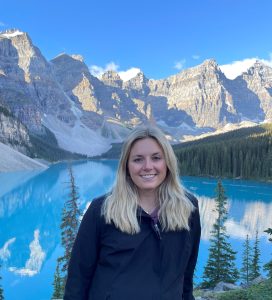 Hello! My name is Elle Cooper and I am the Student Exhibits Chair this year. This is my first year in EXPO, and I'm looking forward to working with all of the student orgs on campus and seeing what kind of cool exhibits they come up with!
Being in EXPO has been a great experience so far and I have already made a lot of friends in it. I'm looking forward to experiencing my very first Engineering EXPO this coming April!
As the Student Exhibits Chair, I am responsible for organizing the exhibits created by student organizations, lab groups, and individuals. It involves a lot of communication and being organized, but I am enjoying being able to meet all of the different student org leaders!
Outside of EXPO, I enjoy staying active, traveling, having movie nights with my friends, and trying out new restaurants. I studied abroad last semester in Ireland and it was an amazing experience! I was able to travel to 12 different countries and met so many amazing people. Some of my favorite places were Mykonos, Amsterdam, and Berlin. I also ran my second half-marathon this semester with a few of my friends!
If you have any questions for Elle, reach out via email at studentexhibits@engineeringexpo.wisc.edu