Emma Dickenscheidt
Position title: Graphic Design Chair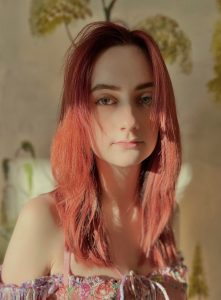 Hi! My name is Emma Dickenscheidt and I'm a senior majoring in Graphic Design with a Minor in Entrepreneurship. This is my first year with EXPO!
As the Graphic Design Chair, I creates various materials that help aid in the success of the live EXPO event. Some of these projects include email marketing, apparel design, and map configuration.
Outside of EXPO, I love to thrift and cook new recipes (my current favorite food is kimchi fried rice). I also love all things fantasy – DnD, renaissance fairies, Harry Potter, etc.
If you have any questions for Emma, reach out via email at graphicdesign@engineeringexpo.wisc.edu.