Erin Konter
Position title: Executive Chair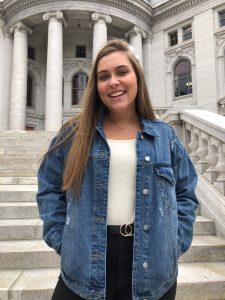 Hi! My name is Erin Konter and I am a senior majoring in Biological Systems Engineering on the Machinery Systems Track. I have been with EXPO for three years! Previously, I was the publicity chair and the outdoor logistics chair. My favorite thing about EXPO is seeing the kiddos excited about a field that they generally do not have a ton of exposure to. It is so great to see the interaction between the college and middle school kids.
As the Co-Executive Chair, I supports the indoor logistics, outdoor logistics, publicity, and graphic design chairs. I follow their progress throughout the year and check that small details are not being overlooks. I also help run our weekly meetings with all of the chair and committee members.
Outside of EXPO, I love to travel and see new places and has an obsession with my pup, Gracie.
If you have any questions for me, reach out via email at executive@engineeringexpo.wisc.edu.