Orhan Guedes Özkan
Position title: Volunteers Chair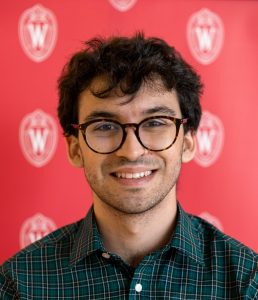 Hi everyone! My name is Orhan Guedes Özkan and I am a senior majoring in Electrical Engineering. This is my second year with EXPO! My favorite thing about EXPO is going to schools in the area, I visited many years ago. Now I get to help organize the event and inspire kids like me!
As the Volunteers Chair, I'm in in charge of gathering and coordinating the many volunteers that help EXPO run smoothly, so they can guide visitors, lead activities, and make a great experience for everyone.
Outside of EXPO, I works as a bike mechanic, fixing up Madison's Bcycle bikes as well as tuning up and modifying my own bikes. I'm also a die hard soccer fan and spend a lot of my free time cheering on my favorite teams (Vamos Mengao!)
For more insight about volunteering, reach out to volunteering@engineeringexpo.wisc.edu.